Emma and Ruth's Favourites from Chelsea Town Hall Wedding
One of Ruth's favourite photos from her wedding at Chelsea Town Hall is this one above, of her and her Mum sitting on the bus after the ceremony at Chelsea Town Hall. I love this interaction as well. I remember seeing them holding hands, and the only way I could show this in context was to use the screen on the camera to compose from the ceiling of the bus. Anyone who's photographed on the top deck of a moving double decker bus knows how tricky this can be!
"There was also one of me and mum on the bus, sitting beside each other. Emma and I had done a lot of the arrangements to make sure Mum was comfortable and supported and enjoying herself without worry the whole time, and you did capture a little moment when we were just together – I'm still 'her girl', not going anywhere."
Registry Office Waiting Room
Earlier in the day, at the registry office, Ruth and the rest of the guests were gathering in the ceremony room as Emma arrived through the side entrance. She needed to wait to speak to the registrar, and sat in the waiting room with all the other Chelsea residents waiting to speak to a registrar. I saw this interaction, but didn't know the details until Ruth told me the story:
"I do like the one of Emma and the stranger in the registry office. She was in to register the death of her husband of many years, and saw Emma sitting there, a new bride to be. They had a little chat and she wished her as much happiness as she had had. Who could ask for more?"
The Spontaneity of a London Wedding
One of the greatest things about working as a London wedding photographer is the unpredictability of the capital. There's always something going on, and when the plans involve moving around the city, anything can happen. This shot is from after the ceremony at Chelsea Town Hall. It was late afternoon, and the light was falling, so we wanted to get some of the group photos done straight away. Ruth and Emma had hired an afternoon tea bus from B-Bakery, so we were using that as the background when a street sweeper walked past and wished them all the best.
As a photojournalist, I'm going to keep shooting this scene, and it turns out it was one of Ruth's Mum's favourites!
"One of Mum's favourites is when you caught the street-sweeper as he went past. She felt that he was a modern-day sweep, and the picture caught his grin as he got a big cheer – totally would have been missed in formal photography, and always makes me smile to see it as it was 'real London'."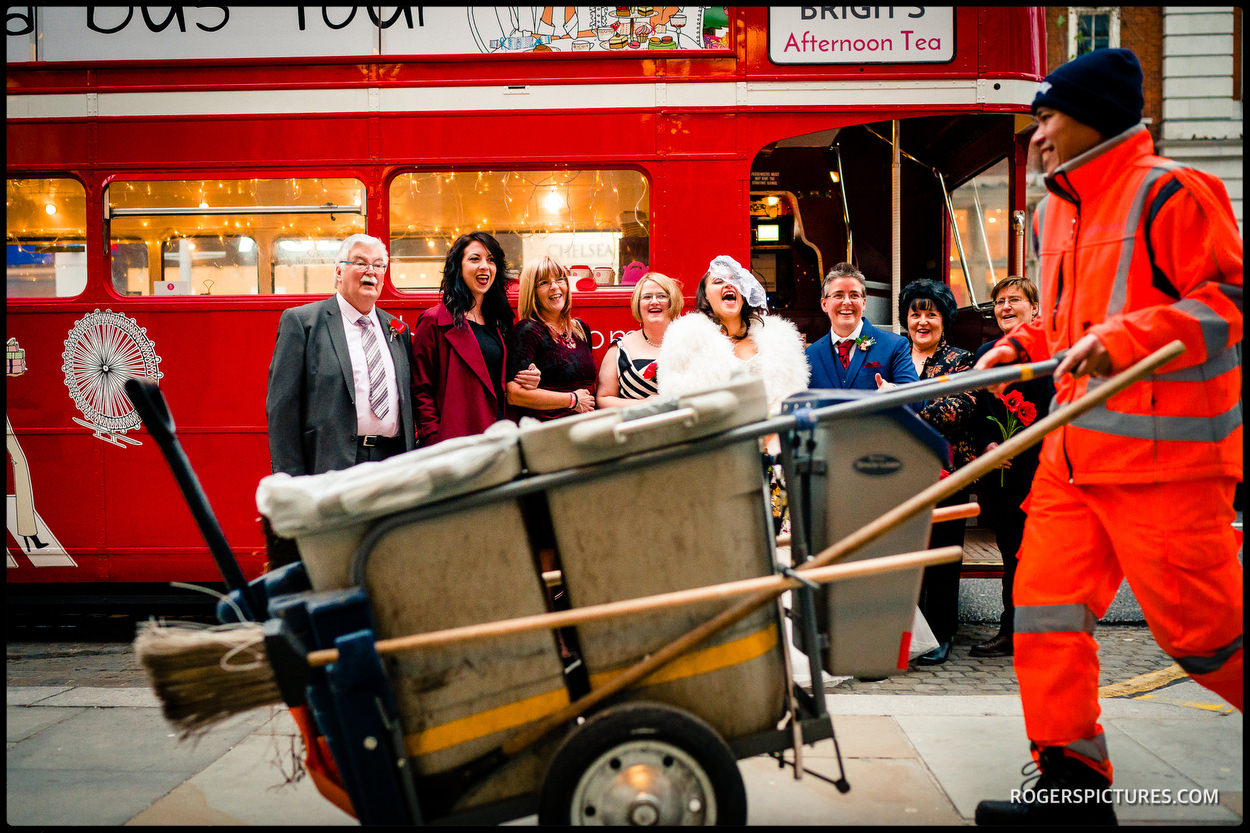 Nerves Before The Ceremony
I'm used to photographing the nerves before the ceremony, but it's usually the couple's nerves! Here is Ruth's Mum waiting nervously for her daughter in the ceremony room at Chelsea Old Town Hall. Beyond her, through the doorway, you can see Ruth and her sister Rachael outside. It's one of Emma's favourite photos, but here's Ruth's memory of the moment:
"I wouldn't necessarily agree that I was less nervous than my Mum, as I was getting pretty nervous waiting with Rachael, but can see why she likes the picture. Maybe it's all about the degree though – I was certainly glad of Rachael's arm to go in upon."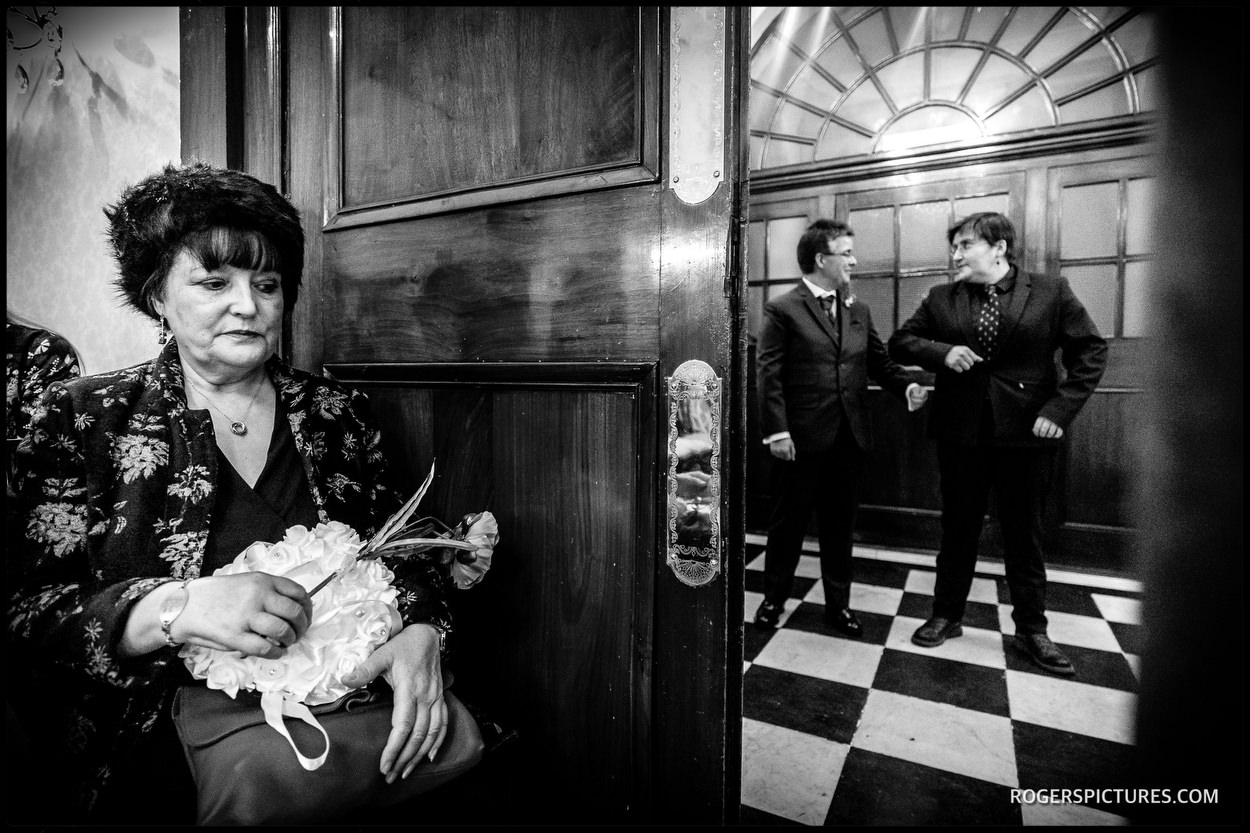 "For me one of my favourites is were Deirdre, Ruth's mum had a shot taken of her and you captured how nervous she looked in the town hall and in the background there is Ruth and her sister having a giggle and it really snapped the essence of the mother of the bride being more nervous than Ruth."