Bring A World Of Experience To Your Wedding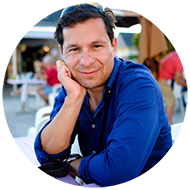 As a newspaper photojournalist at The Times in London, I was lucky enough to travel the world and report on some of the major stories of the day for almost two decades. From Kosovo to North Korea, from Charles and Camilla to Robbie Williams. I learned how to tell stories quickly, beautifully and without fuss.
There's a saying amongst news photographers on Fleet Street – "You're only as good as your last front page". In a highly competitive industry, I learnt how to make the best photographs, quickly, under any conditions.
I'd found myself at The Times in the late 1990's after studying at Cardiff University. It was there, whilst enrolled on a Physics course that I discovered the student newspaper, Gair Rhydd (Free Word in Welsh).
They had pizza every Thursday, and I got to see bands like Oasis for free. That's also where I met my future wife, Helen.
I knew I wanted to be a photographer, so after my Physics degree, I studied documentary photography under Daniel Meadows. That led me to news photography, and a very enjoyable career at The Times.
Helen and I got married in 2005 and our son Dominic arrived in 2008, and Maddy in 2011. That's when I stopped photographing in war zones but continued at The Times until 2015.
As a wedding photographer, I've been helping people capture a slice of their lives on their wedding day since then, and have done it at more than 300 weddings now. It never gets boring, and I still love what I do, because every couple is different, every story is different.
No two photographer's pictures are the same, because they've had different lives, different experiences and view the world differently.
I hope you like the way I see the world, and how I photograph it for my clients.
Award Winning Wedding Photographer
Everyone's an 'Award Winning' wedding photographer these days!
I only regularly enter a few awards, including Fearless Photographers, the Wedding Photojournalist Association (WPJA) and This is Reportage. They're the only organisations that value strong, story-telling wedding photography. I've been fortunate enough to win awards in all of them, and have twice been the top UK photographer with the WPJA.
Here's a collection of award winning photos.
There's an interview with me by Australian photographer and podcaster Andrew Hellmich which goes into some detail about my work at The Times and how that led to my photographing weddings.
Here's a follow-up interview with Andrew where I talk about Foundation Workshop.
Ian Weldon interviewed me for his Outerfocus podcast here.
I delve into documentary photography in a little more depth on Matt Druin's Photo Bar Podcast here.
Follow me on Instagram
If you're a photographer looking for some training or mentorship, you can book consultations on my Wedding Photography Training page.
Interested in what camera gear I use? I was featured on the superb Shotkit website.
Photojournalism For The Times