Favourite Wedding Photos From The Fable, London
As a wedding photographer, I have favourite photos from every wedding. These are usually ones where I have an emotional connection with the picture – maybe I saw the possibility of a great moment, and waited it out long enough for it to work. Or the light was superb, or it was a really emotional moment. But I'm just as interested in what my client's favourite photos are as well. Often there's connections or content in a picture that really resonate with them and I'd be unaware of this without asking. As a documentary wedding photographer these reasons are really important, and it helps me in the way I approach and photograph weddings in the future. Here's a couple of Cathy and George's favourite wedding photos from the Fable, London from their Fable, Holborn wedding photography from last year.
Candid Moment on a Wedding Bus
One of George's favourites is the black and white picture above, showing Cathy and George on the wedding bus after their Islington Town Hall wedding. It's an unposed, candid moment, shot on a 85mm lens. I've used this lens to compress the foreground a little, using some other wedding guests to frame the newly-weds. Working on a moving bus can be pretty tricky as well, so I like to use a longer lens sometimes in order to keep my movements to a minimum. George likes this particular photo as it 'captures the atmosphere of fun, happiness and celebration on the Routemasters on the way to The Fable'.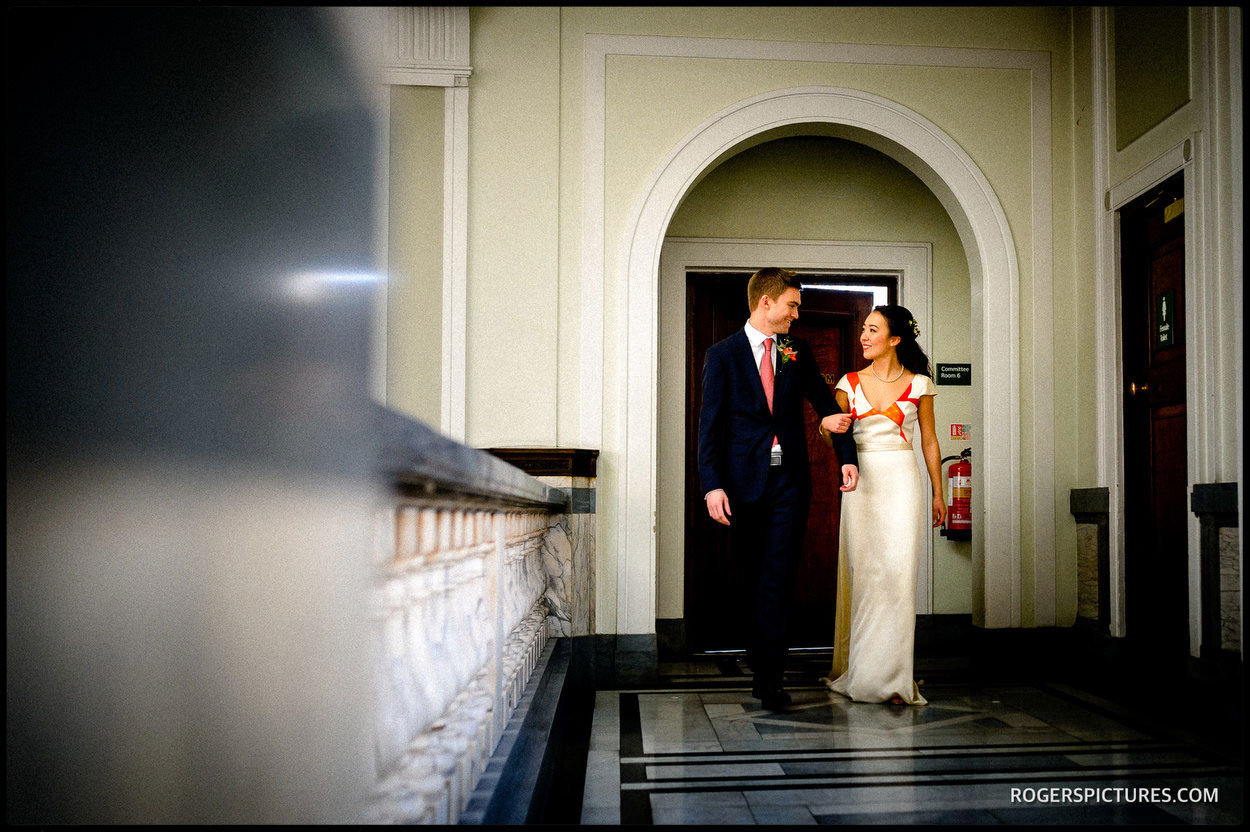 Pre Ceremony Excitement
Here's Cathy's favourite picture. It's taken at Islington Town Hall before the wedding ceremony. They chose to walk into the ceremony together rather than the traditional way of the groom stood on his own. Here's why Cathy loves this picture:
"This is probably one of my favourites. I like that it was a quite moment for just us two, just before we walked into the main room for the ceremony. I remember the excitement and anticipation (with a quiet confidence, no nerves!) about the day, and the rest of our married lives."
I love the connection between the two of them here as well. Part of what I aim for is that the photos should transport you back to your wedding day whenever you look at them. So it's great to hear that Cathy remembers the excitement and anticipation when looking at this photo.
If you've enjoyed seeing Cathy and George's favourite wedding photos from the Fable, London, check out the full story of their wedding. Or you might enjoy Jenny and Paul's London Town Hall wedding too.