A Varied Summer of Documentary Wedding Photography
What a fantastic Summer, shooting 25 weddings between May and September. From Hamburg to Hatfield, Catholic weddings, civil ceremonies, Jewish weddings and a Sikh wedding. We've had glorious sunshine during a World Cup, and torrential rain when the weather broke. The fabulous thing about being a documentary wedding photographer is the variety of people and locations I get to photograph. So it's always lovely to have some of my photography awarded in the continual WPJA contest throughout the year. Here's five winers from the last couple of rounds. Starting with an emotional farewell for Anisha after her Micklefield Hall wedding just a few weeks ago. The departure of the bride and groom from her parents house is always an emotional moment at a Sikh wedding. To capture this moment, I've positioned myself outside the car. With a 35mm lens, I've tried to include some of the reflection in the window to help give context, while keeping Jas in the frame. But the real focus is the moment between Anisha and her Father. I love that her Father is holding onto his daughter tightly with one hand, while simultaneously shaking Jas' hand with the other. You can just make out her Mother in the background. It's this kind of image that tells the story of that moment in one frame, that really drives me as a photographer. This received a gold award, meaning it was chosen by all four judges.
Wet and Windy Wedding in Hamburg
Towards the end of the Summer I flew out to Hamburg to photograph Laura and Sven's wedding in Germany. Laura's from the UK, and met Sven in Hamburg. They'd planned a Town Hall wedding followed by a boat trip on the River Elbe. The weather did nothing to stop Laura and Sven having a super wedding day – and in true Brit fashion, Laura braved the driving rain as she stepped out of her Rolls Royce at the Town Hall and again when leaving the pier. These two images below both received awards. For a story-telling photographer, the weather just forms one more character at the wedding, and I'll do my best to capture that feeling in the photography as well. Check out more of their documentary wedding photography in Germany.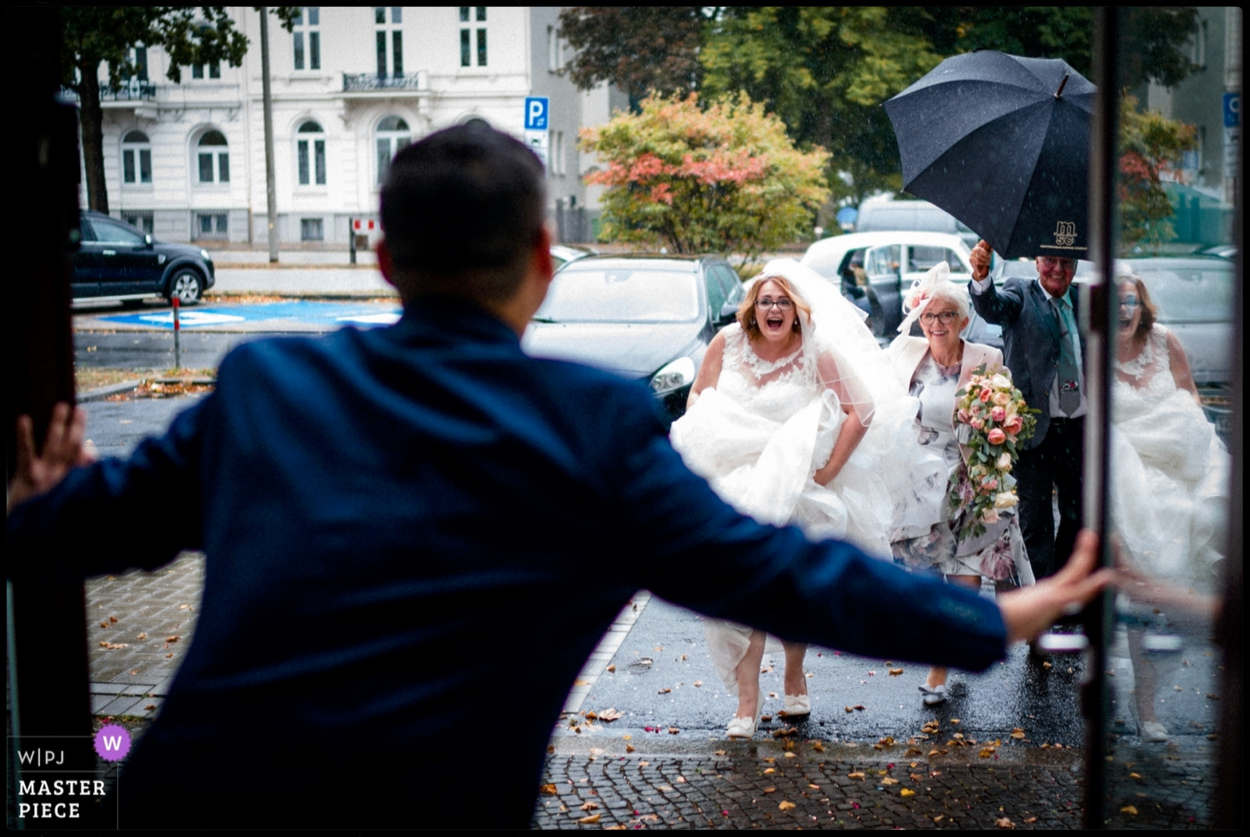 Lastly, here's two images of children at weddings. No explanation needed here – the picture tells the story! But capturing these kind of compositions is certainly easier now that I'm using the mirrorless Sony A9 with a flip screen. I've always made compositions from low to the ground and overhead, but a flip screen makes that a whole lot easier now. Check out some more pictures from Rebecca and Mark's Summer wedding in Ticehurst, and also Katie and Jason's Leeds Castle wedding photography.
A huge thank you to all my couples who make my job so interesting, and the WPJA judges for their hard work in selecting award winning wedding photography.