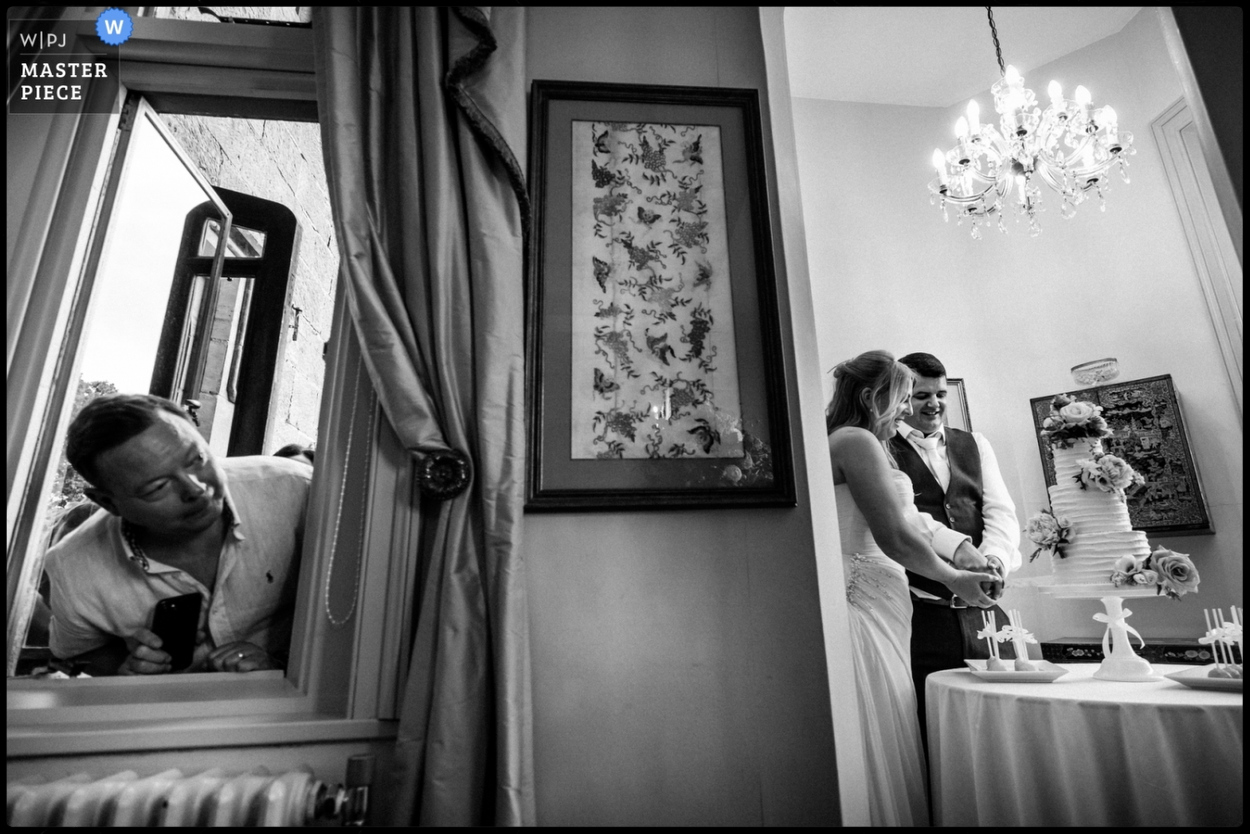 New Wedding Photography Awards – Autumn 2019
I'm delighted to have just received another 4 awards in the Wedding Photojournalist Association contest, and also a new Fearless Award as well.This first image above shows Louisa and Benn cutting their wedding cake at their outdoor wedding at Wadhurst Castle earlier this year. The cake is placed inside one of the turrets and there's only really room for the couple in there. As they cut their cake to their guests applause, one guest tries to grab a glimpse of the newly-weds from an open window. I love these kind of wide compositions, where there's a mini narrative going on in a single frame.
Bride and Groom Tug-of-War
Of the four winning photos with the WPJA, these next two were both awarded Gold. I love this moment at Kate and Aaron's Outdoor Wedding at Swallows Oast – just after the Groom and his groomsmen have hauled the Bride and bridesmaids to the floor in a tug-of-war. At the point of collapse I was shooting quite close to Kate, so I quickly stepped back on the 35mm lens to capture the whole scene, just as Aaron celebrated his victory with a high-five!
Also winning gold was this emotional capture from Jacqui and Neill's Summer Wedding at Brocket Hall in Hertfordshire. It's one of Jacqui's daughters in an embrace just after the wedding ceremony. This is prime time for me to try and capture some great emotional moments between the couple and their guests. But at this wedding, their children were clearly as emotional about the marriage as anyone else. Using silent cameras like the Sony A9 means I'm able to get in close to this kind of photo without disturbing the moment .
The final winning image from the Wedding Photojournalist contest is this picture at Daniel and Rachel's wedding at Hatfield House earlier in the year. Grandma has been invited to join the male members of the wedding party in some of the Israeli dancing during the reception, and the vibrant colour of her outfit contrasts well with the all white shirts of the men. Everyone's clearly having a great time as well!
Fearless Photography Award
It's extremely hard to get a winning image in the Fearless contests. I've been a judge for a couple of rounds in the past, and I'm acutely aware of the amazingly high standard of wedding photography from members across the planet. Of around 10,000 images entered, only around 100 achieve a Fearless Award. So I was delighted that this photo of Rachel and Carl's Mums sitting in front of the amazing painting, The Judgement of Paris, by Gary Myatt from their Wedding Photos at the Vineyard Hotel. This photograph has been the subject of some fierce debate after Petapixel published it on their photo blog.
As always, a huge thank you to all the judges who have to wade through thousands of stunning photos. And also to my clients who trust me every week to capture such a special day in their lives.