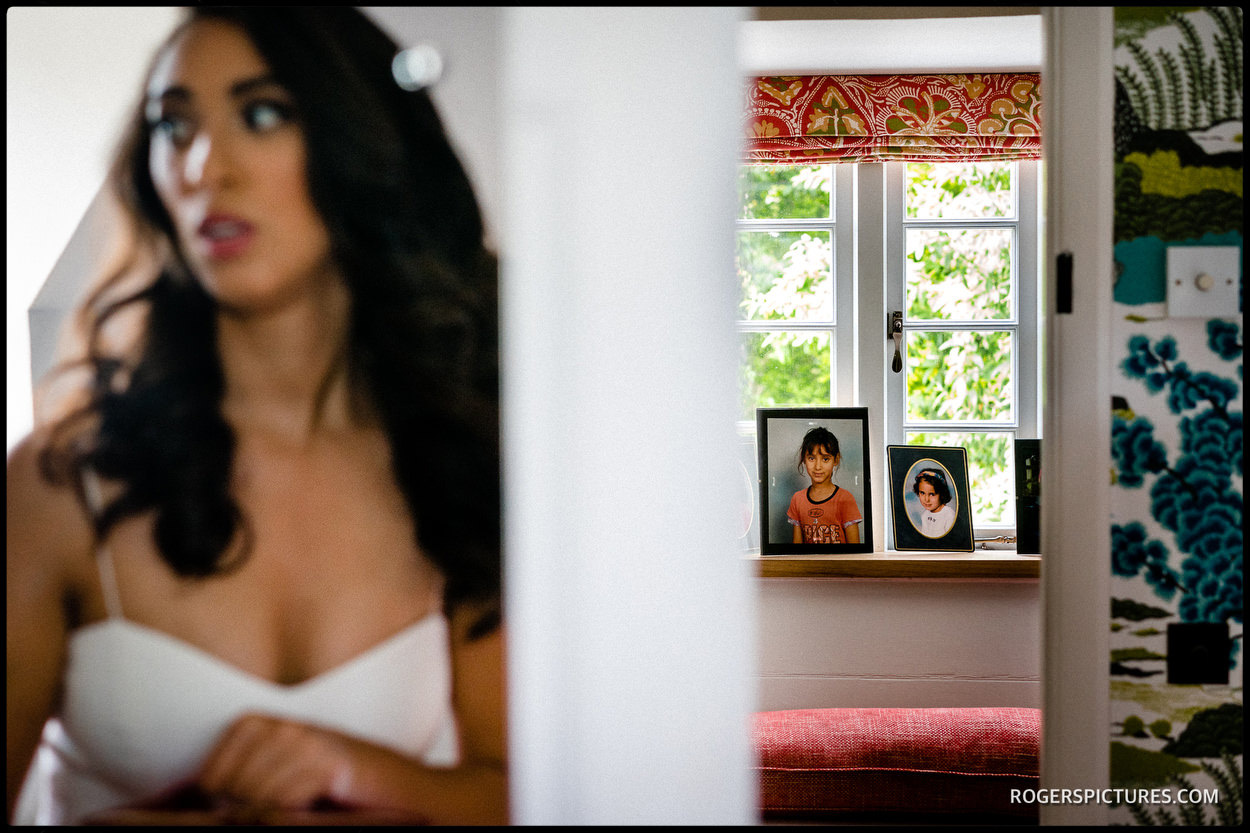 Award Winning Photojournalism
Here's Miriam, during her preparations at home to marry Josh just a couple of weeks ago. I'm delighted to hear that it's just won an award in the 2018 WPJA contest – a worldwide on-going competition for documentary wedding photographers. It's a contest I hold in high regard, as they specifically award unposed, story-telling photography, which is what I specialise in. And this is a great example of when to try and think a little differently in the way moments are framed and documented.
Images Shot With Intent
I'd seen the windowsill with family photographs on earlier that morning, as I went to photograph Miriam's dress upstairs at her parents house while the make-up was being finished downstairs. I realised that this composition might work later that morning, so had one eye on framing an image that showed the pictures and Miriam at the same time. It didn't work immediately – Miriam never seemed to be in the right place for the angle to work, so I was satisfied with a frame showing her Mum and the pictures together. I could have asked them to switch places, and posed a 'natural looking' image, but that's really not my style. For one thing, Miriam and her Mum would always remember me asking them to pose when they look at this picture. But it's also a lot more rewarding as a documentary photographer, to see the potential for an image that says what you want it to say, and to work at it and be patient enough until it all comes together.
Rewarding Quality Documentary Photography
So it means a lot to me when a thoughtful, intentionally framed picture picks up a prestigious award like this. And it says a lot about the kind of organisation the WPJA is for it to recognise this kind of work, as well as the amazing, spectacular hero images that also do well in international contests.
Here's where you can see more from Miriam and Josh's Oxfordshire Jewish Wedding. The photography wouldn't have been anywhere near as good if the day hadn't been planned by the award winning team at Louise Perry Weddings, so huge thanks to them, and all the other suppliers that made this such a super wedding!