Spring 2019 Wedding Photography Awards
A super start to the 2019 wedding season with three new awards! I was delighted to collect not one, but two new Fearless awards in the latest collection. With so many superb wedding photographers around today, it gets increasingly hard to win awards, especially from Fearless, probably the most prestigious wedding photography site around. Out of around 10,000 images submitted, only 200 receive awards. This first image above is from Emma and Ruth's same sex wedding at Chelsea Town Hall and The Gore Hotel in London. It's already been awarded by Masters of Wedding Photography and the WPJA, so it was great to add a Fearless Award to that photo. It was taken during the preparations, and Ruth came to Emma's room where they read their vows to each other before heading off to the ceremony. They didn't want to see each other, but had that physical touch as they held hands around the door. I love the composition and the real emotion on display here.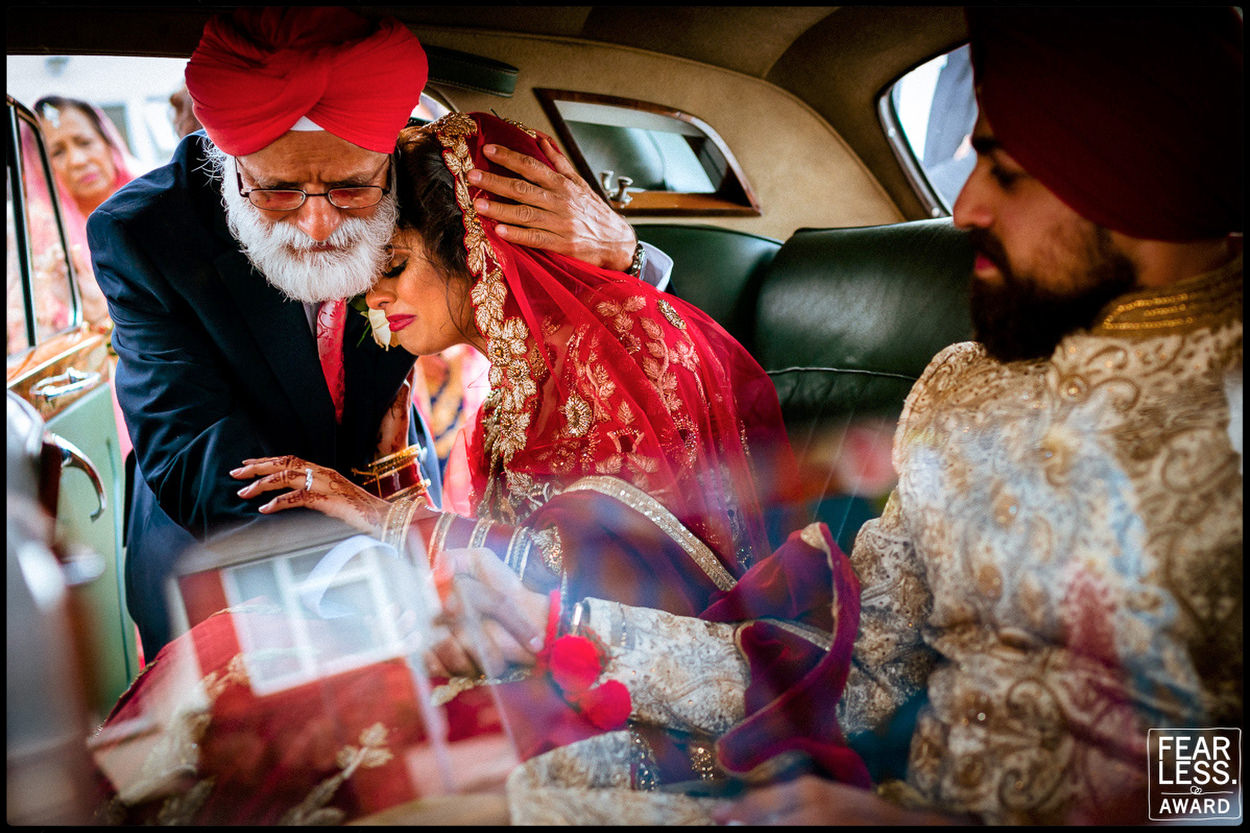 Emotional Farewell to the Bride
This second Fearless Award in the lashes round is from Anisha and Jas' Micklefield Hall wedding photography last Autumn. It's from the part of the day when the newly married couple leaves the brides parent's home, known as the Vidaai. It was a stand-out image for me when I was editing this wedding, but it was only as I started to work on the image that I noticed Jas and Anisha's Father were shaking hands during this embrace. You can also see her Mother in the background.
Wedding Magician At Waddesdon Manor
This final picture just picked up an award from the super This Is Reportage site. A relatively new directory and awards site, it concentrates on unposed, reportage photography. As a documentary wedding photographer, this fits right in with my style and what my clients want. This shot is from Louise and Ian's Waddesdon Dairy wedding photography and features Louise's parents watching wedding magician John Bulleid at work. Taken from a very low angle, the flip screen of the Sony A9 has helped be achieve this composition without injuring myself!
Check out some more of my Award winning photography, or you might enjoy watching this example of a wedding photofilm – the marriage of sound and photography!