There's many iconic venues in London, the city is just full of household names. I've photographed at many, either in my capacity as a news photographer at The Times, or more recently as a documentary wedding photographer. Claridge's in Mayfair is just about one of the most well known and highly regarded hotels in the world. This was my first time providing Claridges wedding photography, and it truly lived up to expectations!
How To Find Your Wedding Photographer
I'll be shooting my 200th wedding some time this year, and with that business foundation comes a very pleasant side effect. And that's client referrals. In the wedding industry, clients often book professionals with little or no previous knowledge of planning such a huge celebration. It's natural to get recommendations from your friends, who will have been through a similar process. I've been a photographer for more than two decades, and have a solid network of fellow creative people, many of whom are photographers. One of those, Adam Jacobs, has kindly introduced my work to several friends. So it was fantastic when Adam's friends, Emily and Hugh, booked me for their Claridge's wedding photography.
Stunning Claridges Wedding Photography
The day started with Emily's preparations at Claridge's, where her parents and sister's family were also getting ready. Meanwhile the Ballroom was prepared for the Jewish ceremony downstairs. The bride and groom met in the French Salon for the Bedeken and Ketubah Blessing.  In the Ballroom, the rest of the guests were being seated ready for the main ceremony.
The Chuppah looked fabulous in The Ballroom which is a pretty impressive space. Following the ceremony, there was a drinks reception. Then it was back to the Ballroom for the main meal and Israeli Dancing. This part of a Jewish celebration is always high energy and lively – an absolute pleasure to photograph! Joan assisted me with the lighting, and also second shot the rest of the day with me.
Would You Like This Style Of Wedding Photography?
I hope you enjoy some of the highlights from our wedding photography at Claridge's. Let me know if you like this style of photography and are planning a wedding at this amazing London hotel, or anywhere else. Here's some Middle Temple wedding photography that may also interest you. Of for another stylish London wedding venue, have a look at The Queen's House wedding photography.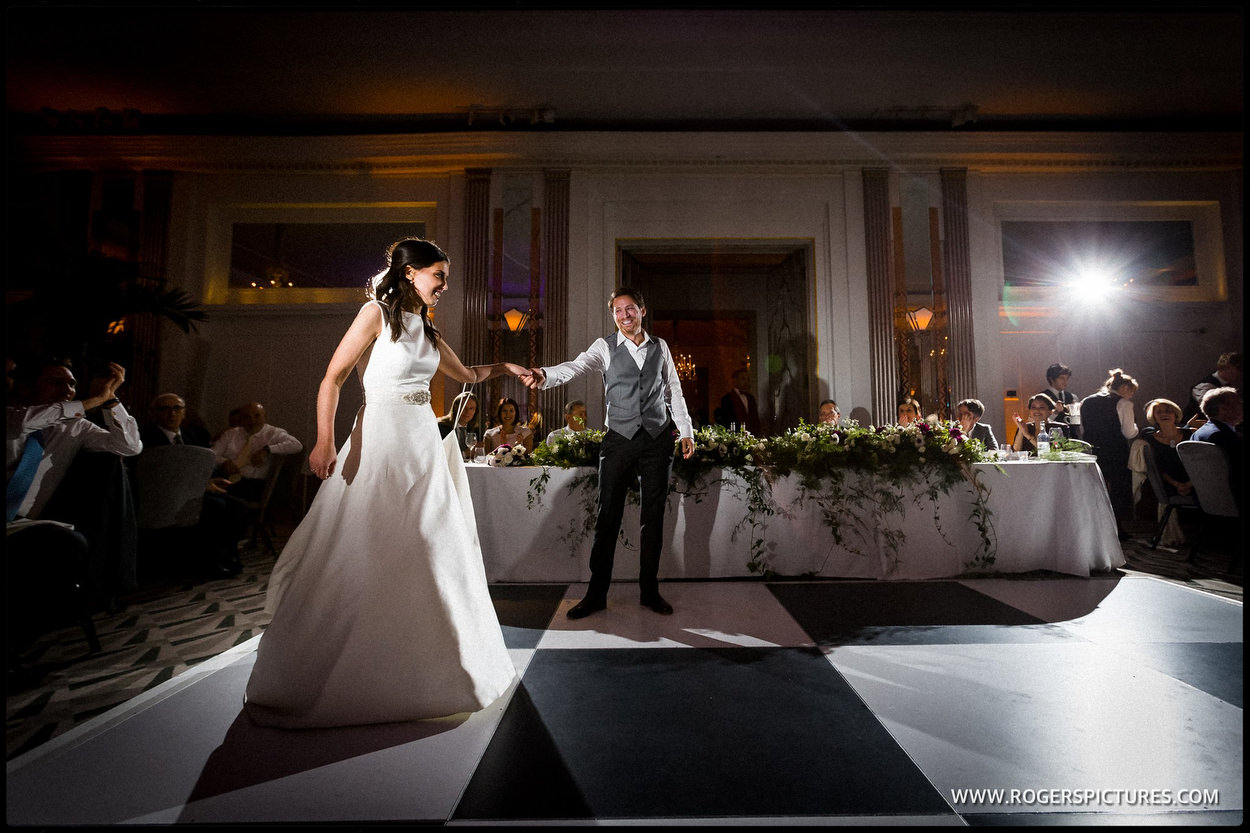 Other Suppliers that made this such a great wedding:
[/vc_column_text][/vc_column][/vc_row]