Top Instagram Wedding Pictures From July 2017
July is always one of the busiest months for wedding photography, and this year that was no different. The great weather at the start of the month gave way to the continual rain that has been a key ingredient of recent weddings. Here's the top Instagram wedding pictures on my Instagram Wedding Page in the last month, starting with this floral tribute from Louise and Richard's Minstrel Court wedding photography. This shot was taken after the ceremony and before the wedding breakfast, as the guests were enjoying some beautiful sunshine in the gardens. There were some games set up, including a 'swing ball' set, and I noticed how one of the guests dresses almost identically matched the flowers in the bed behind. I shot a wide composition straight away, then came in closer on a 50mm lens, knowing I needed to isolate the dress against the flowers – I wanted them to almost merge into one. I spent 5 or 6 minutes photographing this scene, and chose this image which has a hint of movement in from the guests stance, as well as some intrigue from her holding the racket. This image was of course helped by the strong, direct sunlight – it wouldn't have worked as well in flat lighting.
A Quick Bit Of Dutch Courage
This shot from Natalie and Chris' wedding Photofilm from The Orangery at Kensington Palace. It's a short film, using the still images from their wedding photography as well as audio recorded from the ceremony and their speeches. It's a great alternative to hiring a videographer, for couples who don't want their wedding videoed, but would like to have a record of the speeches and ceremony. The 8 minute film is the perfect size for a phone of tablet, letting you relive the wedding day wherever you are! This was taken as Natalie prepared, with her bridesmaids, to enter the ceremony at St Mary Abbots church in Kensington. A hip flask was produced, and nerves were calmed!
This shot is from Emily and Henry's Marquee wedding in Dorset, and is framed through the car doors as Emily arrives at church in Charminster.
Another black and white image, from Cecilia and Dean's Burloes Hall wedding photography in Royston, Hertfordshire. This is during the bridal preparations, and shows Cecilia's reaction as her veil is attached to her hair. It's shot on a 35mm lens, and I'm using the Canon 5D mark IV's touch screen to help me frame it from above. It's a handy feature of the camera which allows me to get some different angles.
Finally, here's the bridesmaids doing a quick selfie before Emma gets her dress on from this Ridge Farm wedding photography. This was such a fun wedding to photograph – there was so much happening, and a lot of laughter! I nearly always head to the the loudest laughter in a room first, and it's by listening and paying attention to what's happening around you that I'm able to position myself for a shot just a few seconds before something happens.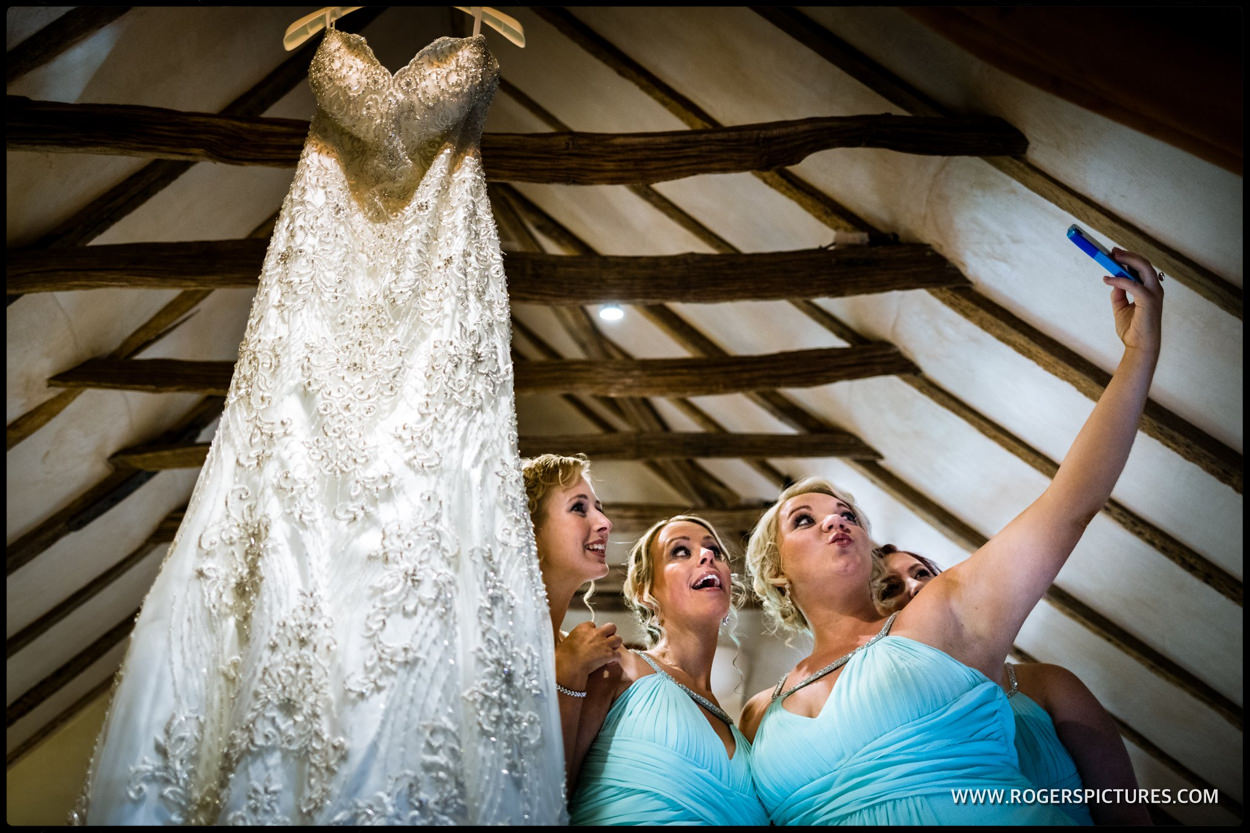 A Daily Feed Of Wedding Photojournalism
Be sure to follow me on Instagram as I post several new wedding pictures there every day. It's a great place to showcase my style of documentary wedding photography.
Or if you're planning a wedding and would like me to send some information on pricing and availability, fill in this quick contact form and I'll get right back to you.